Why become a member of our network?
IS:link is not only dedicated to promoting the international exchange of information systems students by providing them with individual support and guidance. We are also committed to fostering international academic cooperation between the participating universities in terms of teaching and research.

Participating in IS:link connects your organization with a prestigious circle of partner institutions around the globe without the need to establish and maintain contacts with each member organization.

IS:link students and scholars bring an international flavor to your campus. The opportunity to live, study, and work with foreign students, as well as research fellows, gives your students the opportunity to gain important intercultural experiences and cultivates an appealing internationalism at your university.

Attractive partners improve your institution's appeal and allow you to make contact with excellent scholars from around the world.
What are the requirements for joining the IS:link network?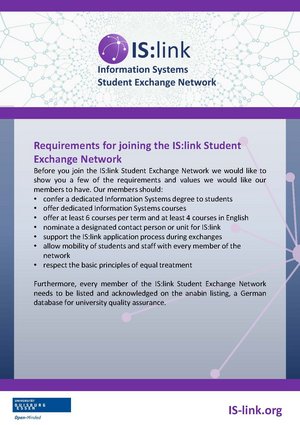 Before you join the IS:link Student Exchange Network we would like to show you a few of the 
requirements and values we would like our members to have. Our members should:
confer a dedicated Information Systems degree to students
offer dedicated Information Systems courses
offer at least 6 courses per term and at least 4 courses in English
nominate a designated contact person or unit for IS:link
support the IS:link application process during exchanges
allow mobility of students and staff with every member of the network
respect the basic principles of equal treatment
Furthermore, every member of the IS:link Student Exchange Network needs to be listed and acknowledged on the anabin listing, a German database for university quality assurance.