Welcome to IS:link!
The task of IS:link is to accompany students on their way to a semester abroad. Starting with the organization up to the recognition of achievements, IS:link supports students of Business Information Systems as well as other students of the Faculty of Business and Economics during the entire planning and organization process. IS:link offers continuous support, competent advice and assistance  – all for a successful completion of your semester abroad.  You can find more detailed information here.
Important Information
In light of the sad events in Ukraine, we have decided to suspend the membership of Innopolis University until further notice. This decision, which is very regrettable for us, is in no way directed against our esteemed colleagues at Innopolis University or even against the students at Innopolis. Rather, it is a necessary symbolic act to make it clear that we strongly condemn the criminal actions of the Russian government.
Current Announcements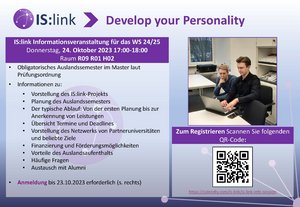 Info Session WS24/25
Dear students,
The application period for SS24 has expired. The application period for WS24/25 is open until 30.11.2023. You are welcome to join the Info-Session that will be held on 24.10.2023, 17:00-18:00.
Please register via this link to join the event. Also, feel free to contact us for further information.
Message to our web guests
Prof. Dr. Ulrich Frank
IS:link Director & Founder
Prof. Dr. Frederik Ahlemann
IS:link Executive Director / Department und International Coordinator